07-08-2018
Aviationglass & Technology's ultra-light aeroglass mirrors placed in KLM's 'orange pride'
VOORTHUIZEN, THE NETHERLANDS – AviationGlass & Technology (AGT) – a Dutch innovations company manufacturing and supplying certified glass products to the global aviation industry – today announced that KLM has successfully installed its ultra-thin AeroGlass Mirrors in the lavatories of its famous 'Orange Pride'- the airline's orange and blue Boeing 777-300 PH-BVA. KLM selected AeroGlass Mirrors for all future lavatory refurbishments on its Boeing 777 fleet. The smooth-edged AeroGlass Mirrors no longer require an aluminium trim providing a weight saving of four kilograms per ship-set compared to the previous polycarbonate mirrors.
The AeroGlass Mirrors were easily installed as were certified in alignment with the European Aviation Safety Agency's (EASA) Certification Specifications for large aircraft (CS25), categorizing AeroGlass Mirrors and transparencies as minor modifications. This removed the need for additional certification or a supplemental type certificate (STC) prior to installation, significantly reducing time and additional costs for KLM.
Jaap Wiersema, AviationGlass & Technology's COO, said, "This first installation on KLM's Orange Pride is significant in many ways. KLM is the first commercial airline in the world to upgrade a commercial Boeing 777 with our crystal clear, lightweight mirrors. Our trimless AeroGlass Mirrors not only visibly contribute to an enhanced interior design but also provide important weight savings per ship-set. This also marks the inauguration of easy and fast certification of our light-weight mirrors on commercial aircraft."
AeroGlass is the world's only certified ultra-thin and lightweight glass product for aircraft interiors. Up to 50% thinner and 25% lighter than traditional polycarbonate products yet highly robust as well as scratch and UV-resistant, AeroGlass Mirrors are available in any colour and can be combined with integrated lighting feature for high quality branding and luxurious personalization opportunities.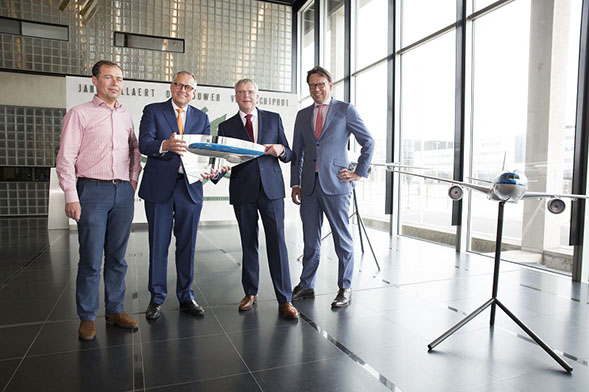 From left to right: Robert van Bohemen – Fleet Manager KLM, John Rietveldt – AGT CEO, Peter Slobbe – Vice President Fleet Services KLM and Jaap Wiersema – AGT COO